Binocular Colposcopy Machine for cervix colposcopy images KN-2200BI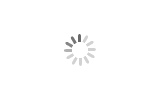 Binocular Colposcopy Machine for cervix colposcopy images KN-2200BI
:Gynecological Including vaginal and uterine diagnosis

:CE、FDA

:LED light

:available
COLPOSCOPY IMAGING SYSTEM

Colposcope Digital Imaging System is researched and produced by our company. It is image workstation management system combining computer technology and electric colposcope. It is a new product collects digital imaging technology and colposcope technology.
It is applied for gynecology inspection. This technology is different from traditional colposcope inspection. It cancels ocular and breaks through limit of optic lamp-house and high power magnified images enable doctor to find tiny details and can colposcope inspection. Doctors observe focus only through color display. Its good the screen. It can be used in course of diagnosis, supplying high-quality service to doctors collect, magnify, freeze, store, pathologically analyze and print the images observed on requirement of future "digital medical image and patients.
It improves function of colposcope inspection and satisfy developing requirement of the future "digital medical image"
What is photoelectric integrated colposcope?
Optoelectronic integrated colposcope is a new generation of advanced equipment for the clinical diagnosis of cervical lesions, which integrates the advantages of microscope optical system and electronic colposcope imaging system.The excellent stereoscopic microscopic optical system provides the clinician with perfect stereoscopic vision in high definition under super long depth of field and super large field of vision.It is also widely used in gynecological examination and treatment, and the observation of cell tissue changes in the early stage of cervical pathology, to help clinicians more accurately evaluate the clinical evaluation of some border areas that cannot be observed by the naked eye.
High resolution and high-resolution observation system
*1/3′High-resolution color digital CCD.
*Video output.
*Fast auto-focus and manual focus
*Automatically adjust white balance.
*Unique spectral grating and CCD imaging device unique fine-tuning make the screen show independent body imaging,so that Lesions observed at different levels can get the best results. *Observation system built-in scale can measure the size of lesions.
*Five-times zoom focus, three-dimensional sense of strong, distinct, large vision.
*with a green filter, to facilitate observation of capillary lesions.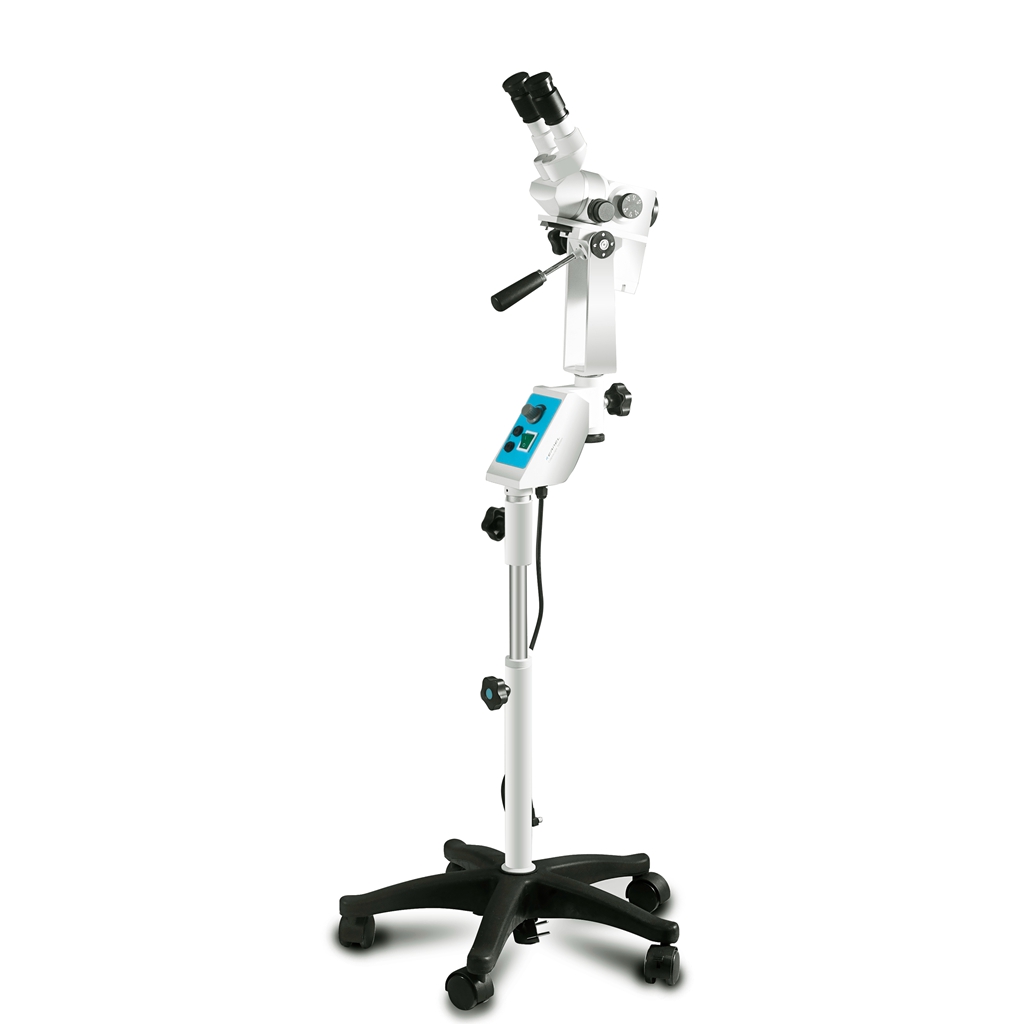 Unique light source design
*High brightness of LED lamp light source, make the object lighting more clearly.


*Brightness is adjustable.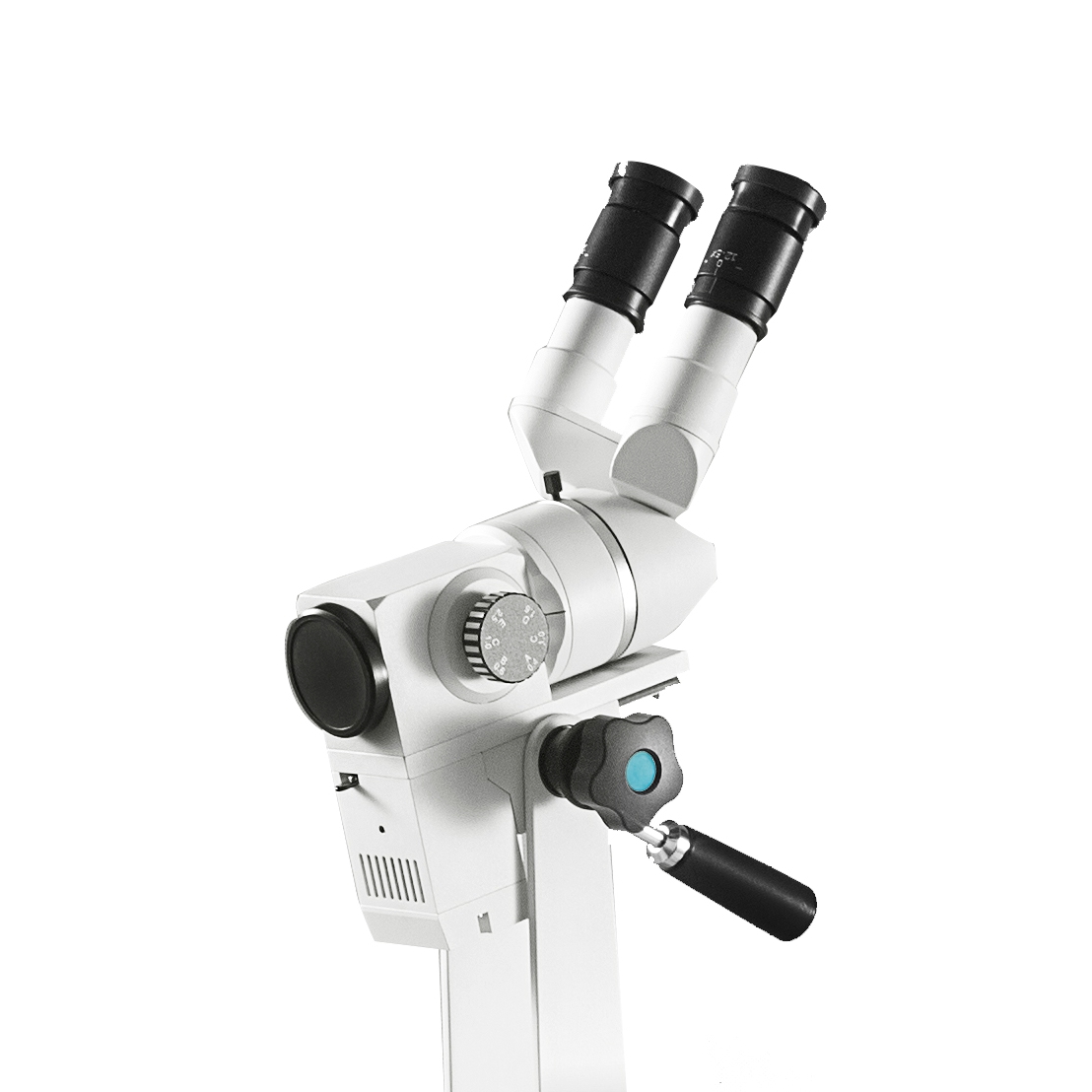 Flexible, convenient stand
*Lockable cantilever support,barrier-free design,easy adjustment at any angle and position.
Computer imaging, data management and disease analysis capabilities integrated
*Multiple languages including Chinese, English, Spanish, Russian, Vietnamese, Turkish ect. .
*Multi-function management software with the ability of image observation, capture, video recording, freezing, editing, report printing and storage.
*Special software package, can be used for marking, zoom in and out, partial magnification ect. . With the function of acetic acid reaction countdown, applicable to dynamic observation of colposcope examination and operative treatment.
*Abundant cases database(up to 175 kinds), satisfied cases images can be added, suitable for clinical contrast. *Built-in standard cases report template,convenient for editing and printing; support various formats of diagnosis reports and RGB image printout; doctor can design case report.
*Search cases via case number, name and date; Image display, data modification, save, re-examination and video replay to the retrieved cases.
*Can store and backup abundant image data.
*One-key installation software, supports Win7 and Win8 OS .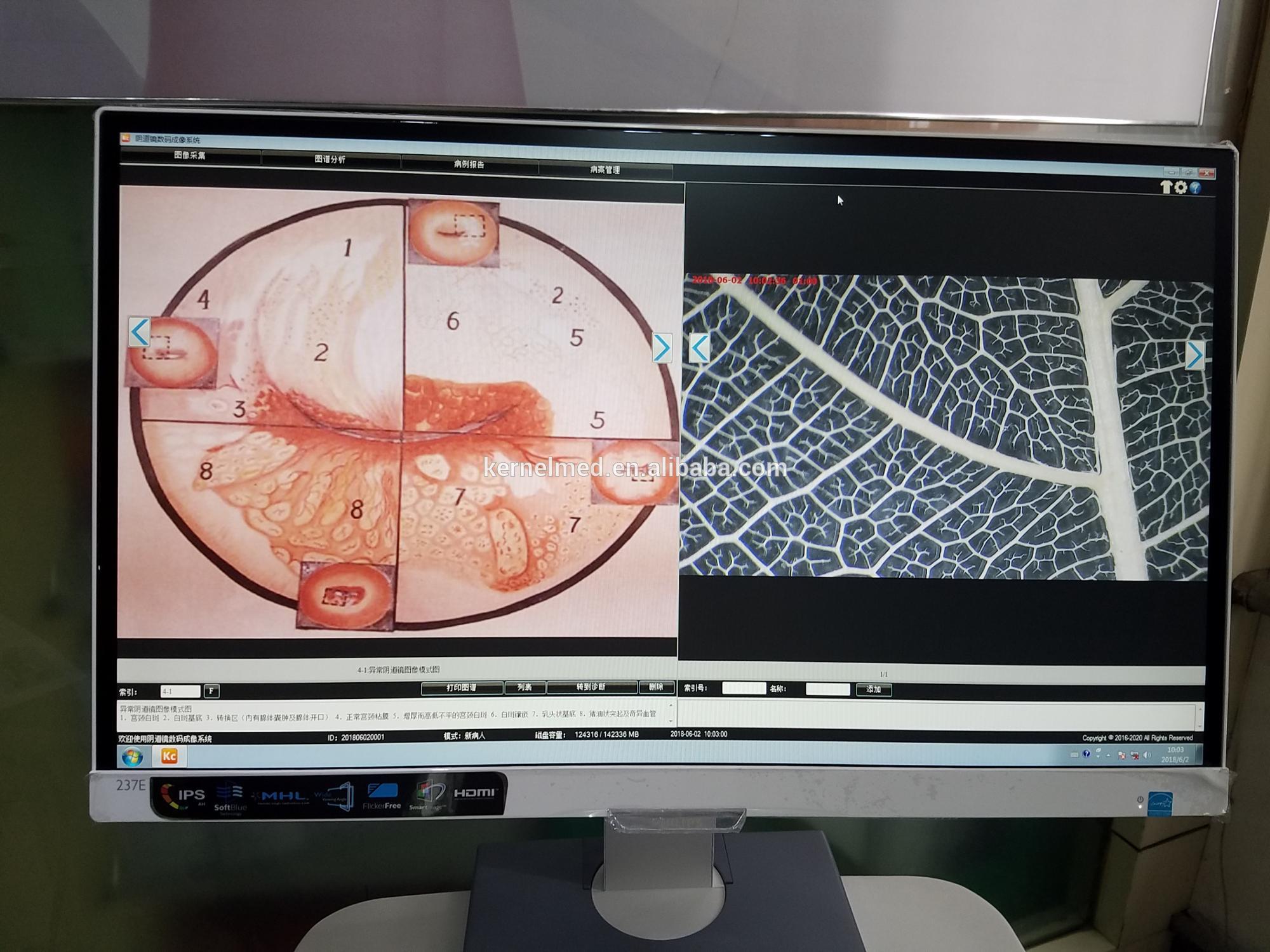 ---
Technical parameters
Performance requirement of binocular microscope
*±7.5% Total magnification error:±7.5%
*Magnification error between right and left of optical system:≤1.5%
*Offset of vertical direction in the objective lens imaging plane ≤0.2mm, Offset of horizontal direction ≤0.4mm
*Focus variation between right and left of optics system: DL/R≤1.5·DF
*Resolution in the center of the highest magnification field-of-view not less than 79 lines/mm. *Slope variation of image between right and left field-of -view≤2º
*Height variation of exiting pupil between right and left optics system of eyepiece,set visibility value in 0 bit ≤1.5mm。
*Calibration error of the visibility marking of eyepiece, error of zero visibility indicate:±0.25m-1。 *Minimum adjustment range of eyepiece pupil:55mm~75mm.
*Minimum adjustment range of eyepiece visibility+5m-1~-5m-1
*Imaging parfocality: resolution of field-of-view center not less than 20 lines/mm *Relative tolerance of field-of -view: relative tolerance between right and left field-of-view diameter of microscope not more than 2.5%.
*Offset of field-of-view center:not more than 10% of field -of -view diameter.
*Illumination device: CRI(color rendering index) is more than 85%.Temperature rise of irradiated surface converting to irradiance Ee not more than 1000W/m2.
*Noise: not more than 65dB.
Camera:*Horizontal resolution: ≥1000TVL.
*1/3" High-resolution color digital CCD.
*Pixel ≥2100,000, available for PLA and NTSC.
Swing arm: can be lifted or lowered. The stand and camera can be rotated by 360°.
Fuse specifications, ratings:Light source: T1.5AL/250V Φ5×20.
Light source: Light source brightness is adjustable, with the function of filter transfer. Within the working distance, illumination is not less than 25000 Lux.
The irradiated surface temperature does not exceed 41 ℃.